One of Love Life's House of Refuge churches contacted one of our sidewalk outreach team members—me. They told me that there was a young lady who a member of the church heard about who is considering abortion. The friend of the church member had been in touch with her and told us that she would be willing to talk to one of our sidewalk outreach people. I gave them my name and number and urged them to have her call me.
To my delight, she did. She was young, polite, and scared. Every single person in her life, except for one Christian friend, had been urging her to abort her child. This included her boyfriend. One of her relatives had given Planned Parenthood her information. Planned Parenthood, against all ethical practice, had called her, telling her it was her doctor's office, soliciting the sale of a low-cost abortion.
She said there were many difficult obstacles, including very tenuous and small housing options. She did not know how they could possibly manage with another baby.
As we talked, I learned that she believed in God and even considered herself a Christian. Yet, there are obviously many inconsistencies in her life that pointed to a misunderstanding of what it means if Jesus is Lord of your life. I had prayed very specifically that morning, as I often do, that God would bring me a conflicted woman with whom I could share the gospel. Obviously, He had answered that prayer!
I assured her that no matter how she felt about God, we would help her. I knew that we could help her no matter what she faced. She admitted that she had recently been trying to get closer to God because she recognized she had lost her way, and she said, "I want to find my way again."
That was actually a perfect statement to segue into the truth of what it means to follow Jesus. Our way, my way, will never satisfy. It is the way of Jesus as the only way to a right relationship with God that will ultimately lead to abundant life.
As I shared the gospel, it was clear that she was understanding and admitting, probably for the first time in her life, that she was lost in her sin and was never going to claw her way out of it on her own. The only way to a transformed life and a righteous relationship with God is through submitting her life to Jesus in every area of her life and believing what He did on the cross was sufficient to pay the penalty for sin that she deserved. She told me she wanted to make that commitment right now while we were on the phone. She prayed in her own words, repenting of her sins and submitting her life to the Lord.
I signed her up for a Love Life mentor and discussed in depth her obstacles and some of the resources that would be able to help her. The greatest obstacle was feeling all alone and being at odds with her boyfriend in her desire to save her baby. We decided that the best next step would be to see her baby on the ultrasound with her boyfriend present. Through HELP Monroe Pregnancy mobile ultrasound unit staff, we scheduled that for two days later.
Meanwhile, she was already downloading a free Bible app and beginning to study the Bible. Her one Christian friend brought her a Bible. She talked with the boyfriend, telling him that their lifestyle was immoral before God.
She and her boyfriend came to the mobile ultrasound unit, where I met them with the wonderful HELP Monroe nurse. I talked with the young man for quite a while. I was fully convinced that he truly loved this young lady and that he was troubled. While claiming to believe in God, he knew absolutely nothing about Jesus or the Bible.
First, we brought them back to look at the baby. The young man watched the unborn child moving on the screen with a tiny heart beating about 170 beats a minute, and his face was suffused with joy. When the nurse asked him after he saw the baby how he felt now, he said, "I will love this little baby!"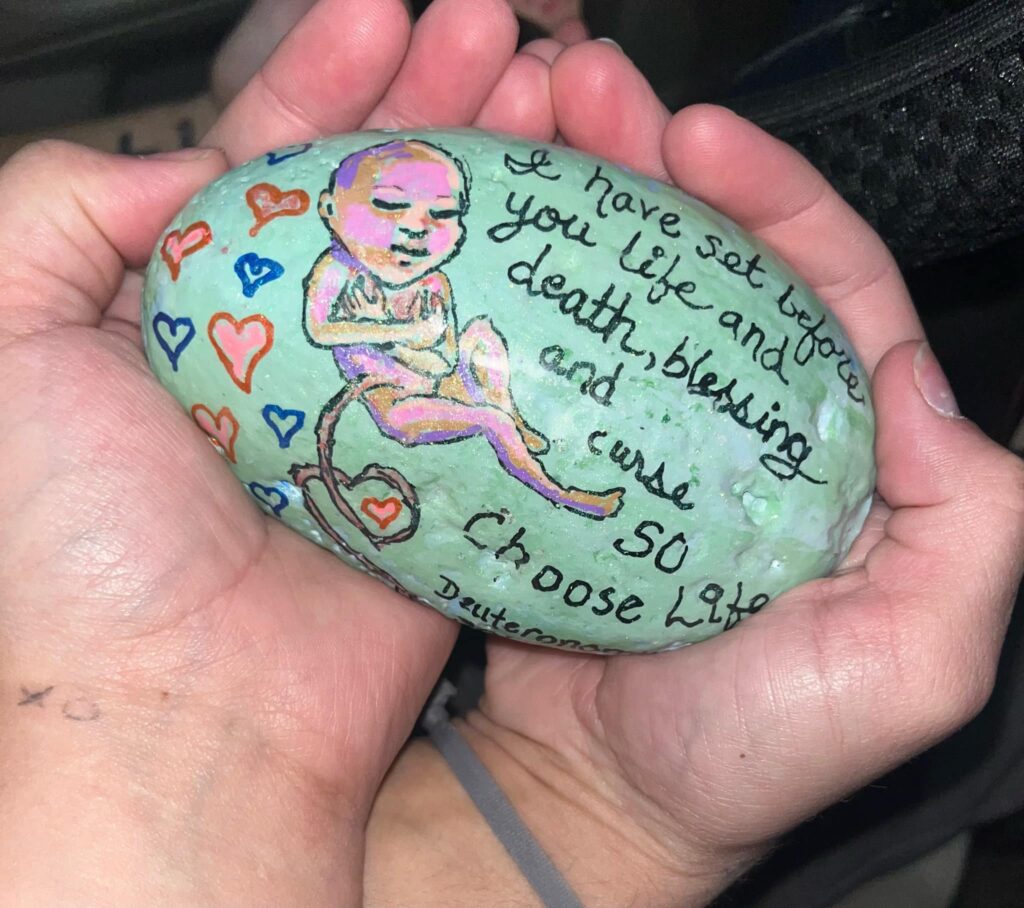 After the ultrasound, I shared with the young man the many different things that I hoped would help them. And then, with the young woman's permission, I shared the gospel again in its entirety and in much greater depth. This young man really had no understanding of the gospel, the Trinity, the crucifixion, or why Jesus went to the cross. We were talking for a couple of hours. When I finished sharing the entire gospel with the humble help from his girlfriend, who sat next to him, the young man said he wanted to commit his life to Jesus as Lord right then and there. He did so, praying in his own soft-spoken words. They left after hugging us and thanking us over and over again.  Within 10 minutes of them driving away, they both texted me, thanking us yet again.
They knew that with their newfound faith, they must honor God in EVERY area of their life. They wanted to marry, but money was tight. The network of Love Life supporters poured out offerings of help so that the wedding would cost the couple nothing. A wedding planner, a church offered as a venue, a pastor offering premarital counseling, people offering funds for the honeymoon night, offers of decorations, shoes, the dress, photographer, music, and whatever else was needed. The lavish abundance of God's love was poured out through His Church. When I told the young couple, the young man who not long ago had felt abortion was the only answer, choked up, tears in his eyes. They could not thank us enough.
I told the nurse that if every young couple that we worked with was like this young couple, we would have to be turning sidewalk volunteers away! Not only was a baby definitively saved that day, but an entire family on the verge of destruction was ripped from Satan's grasp. And the angelic host, along with the nurse and I, were rejoicing.